CDC Issues New Guidance for Safe Indoor and Outdoor Gatherings
This week the CDC issued new guidance for how people who are fully vaccinated can resume many activities, and indicating how relatively safe those activities are for people who are unvaccinated.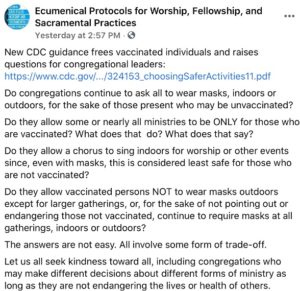 "New CDC guidance frees vaccinated individuals and raises questions for congregational leaders," the Ecumenical Consultation on Protocols for Worship, Fellowship, and Sacramental Practices wrote in a Facebook Post April 28.
"Do congregations continue to ask all to wear masks, indoors or outdoors, for the sake of those present who may be unvaccinated? Do they allow some or nearly all ministries to be ONLY for those who are vaccinated? What does that do? What does that say? Do they allow vaccinated persons NOT to wear masks outdoors except for larger gatherings, or, for the sake of not pointing out or endangering those not vaccinated, continue to require masks at all gatherings, indoors or outdoors?
"The answers are not easy. All involve some form of trade-off."
The Consultation met April 27 to discuss the implications of the CDC guidance. [ Watch the conversation here. ] The group expects to issue updated protocols by early June.